Ciao a tutti! / Sziasztok!
Keeps the doctor away – to continue the expression in the title. Although, there is no scientific evidence that eating an apple once per day would have a significant health benefit, but the zone as red as an apple (dabumts) does have an impact on the covid numbers apparently.
Taking the restrictions with some kind of liberty (like doing sports by sitting on the stairs of the piazza), Italians closed their non-essential shops and wrapped around their playgrounds with tape again. This was kind of expected for March – the official lockdown month -, but of course extra measures were also taken as precaution before Easter and the good weather that comes with it. It is also the month of my birthday, which was very much overshadowed by the first wave of the pandemic last year, but this year it was not an issue as I live with all the people I share this amazing experience with, thus was able to celebrate with them for which I am incredibly grateful.
Reflecting every week as part of our ESC journey I find myself thinking about the small things more than ever before. Answering the question about what makes me happy, grateful or just simply one thing that describes my day I always mention the sun, calmness and some kind of new energy. Unfortunately, as a visual person I find it difficult to express these things in great lengths. I prefer associations, simpler forms to show complex things as I feel that it is just impossible to compress all the thoughts into sentences. Photography is one of the ways of doing this and I would like to share with you some, making it possible to see spring in Faenza through my eyes:
I hope you got the spring vibes. As a fun fact before I say goodbye I want to share an unusual tradition we have in Hungary: the watering of the girls. The so-called "watering" of the women on Easter Monday is an old fertility rite that dates back to pre-Christian times. Young men used to pour water on unmarried women in order to keep them healthy and fertile, and to ensure that they did not "wilt", so the tradition goes. In exchange the girls give hand-decorated eggs to them, however, in recent days boys also get money or chocolate. The water got also replaced by perfume after telling a little rhyme asking for the girl's consent.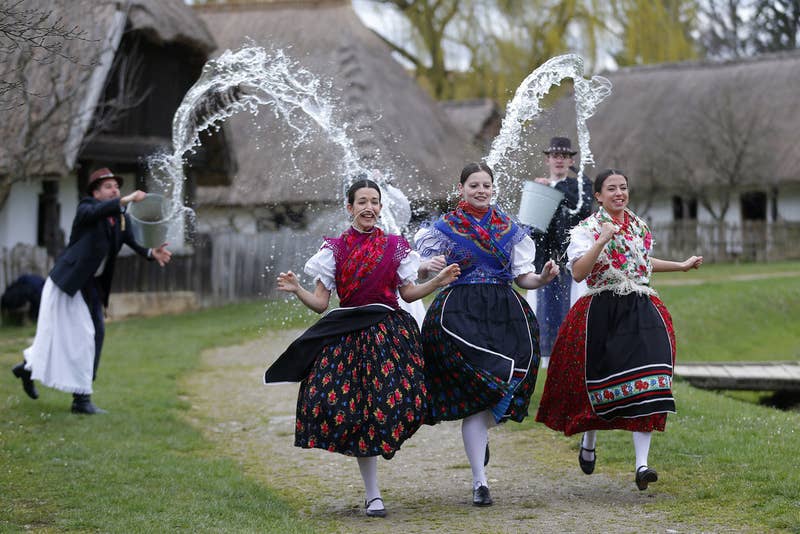 Happy Easter for those who celebrate it!
Ci vediamo dopo,
Györgyi – l'ungherese